NUTRABOLICS HYDROPURE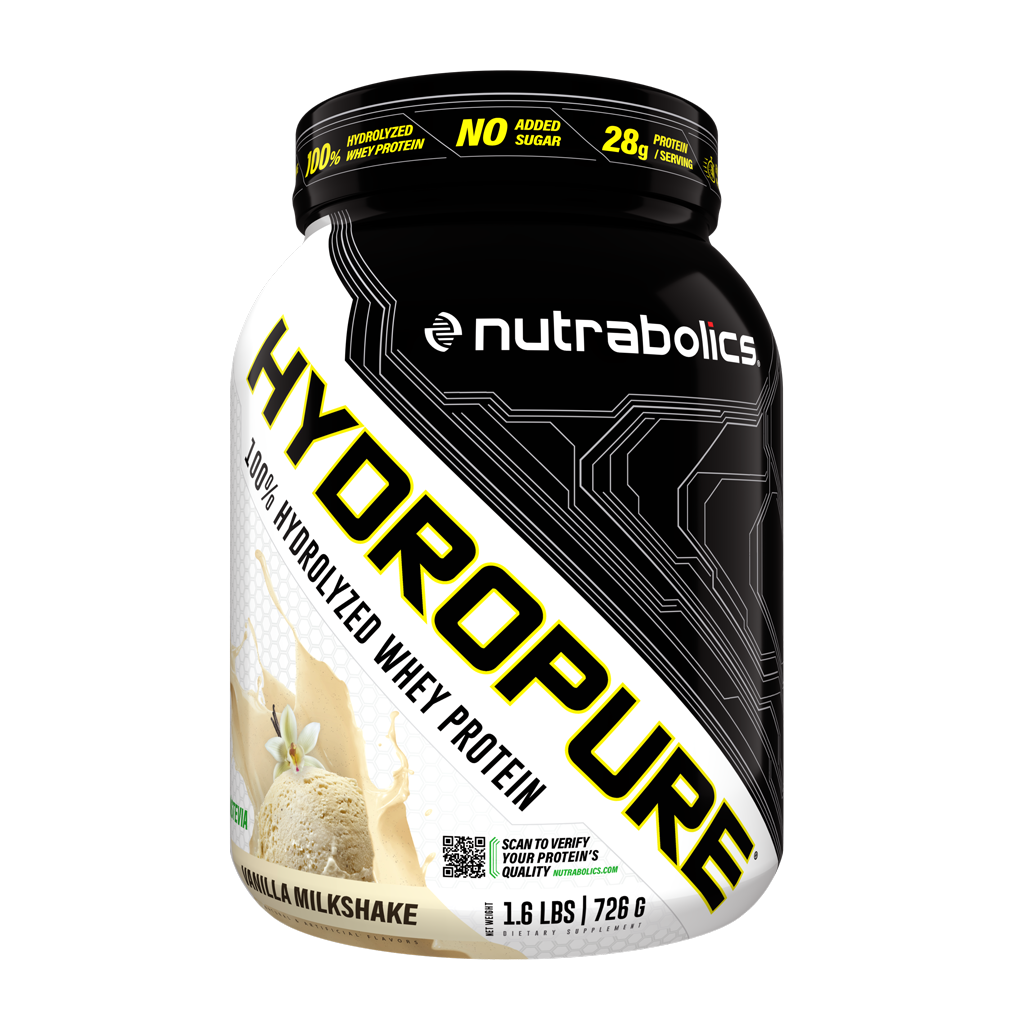 $54.99 $64.99
AMPED SEAL OF APPROVAL
DETAILS:
100% HYDROLYZED WHEY
When training gets intense, serious athletes can't afford any delays in the muscle-building process. Unlike standard proteins or whey isolates, HYDROPURE's® premium 100% whey hydrolysates are specially-designed to accelerate protein absorption and synthesis. Ultra-low in carbs and fat, this elite whey protein provides lean, delicious, and lightning-fast nutrition for high-performing athletes who demand the best.
100% Hydrolyzed Whey
Fastest Absorbing Protein
Supports Muscle Growth*
Low Carb, Low Fat
3rd Party Quality Tested
Mouth Watering Flavour!
LIGHTSPEED MUSCLE BUILDING!
Hydrolyzation takes the purest protein and "pre-digests" it by breaking some of the amino acid bonds to form small polypeptide chains of amino acids, which supports increased protein absorption rates. With these refined and readily-absorbed muscular building blocks, HYDROPURE's® hydrolyzed whey crushes the digestion speed and uptake performance of even the best whey isolates!
Other Ingredients: Hydrolyzed Whey Protein Isolate (WPH90), Whey Protein Hydrolysate (WPH80), Cocoa Powder (processed with alkali), Natural and Arti_cial Flavours, Cellulose Gum, Xanthan Gum, Guar Gum, Soy Lecithin, Sucralose, Acesulfame Potassium, Stevia Extract. Contains milk and soy.
Ingrédients: Isolat hydrolysé de protéine de lactalbumine (WPH90), hydrolysat de protéine de lactalbumine (WPH80), poudre de cacao (traitée aux alcalis), arômes naturels et artificiels, carboxyméthylcellulose, gomme de xanthane, gomme de guar, lécithine de soya, sucralose, acésulfame-K, extrait de Stevia. Contient lait et soya.
Suggested Use: Add one scoop of HYDROPURE® to 8 oz – 10 oz / 250 mL – 300 mL of cold water or milk and shake for ten seconds. Vary the amount of liquid to achieve desired flavour and consistency. Drink 1 – 3 servings daily or as needed to satisfy your protein or muscle-building requirements. For best results, combine with a diet and exercise program.