AOR HYDROXY-B12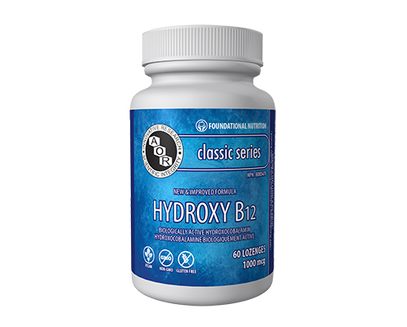 $29.99 $34.99
AMPED SEAL OF APPROVAL
DETAILS:
Hydroxocobalamin B12 Lozenges. 1000mcg
AOR Hydroxy B12 is hydroxocobalamin delivered in a sublingual lozenge. Cyanocobalamin, the most common form of supplemental B12, must be converted first into hydroxocobalamin, and then into adenosylcobalamin, before it can be utilized by the body. Taking hydroxocobalamin allows the body to skip a step in this conversion process, allowing for faster absorption. 
Scientists have identified B12 deficiencies as risk factors for a multitude of conditions, including neuropathy, neurodegenerative diseases, anemia, cardiovascular problems and mood imbalances, among others. B12 supplements in general are especially important for vegetarians and to help prevent pernicious anemia. Hydroxocobalamin in particular also has the unique ability to help the body to rid itself of cyanide, both by reacting with the toxin to form cyanocobalamin (which can then be excreted) and by enhancing the detoxification of cyanide through its conversion into the less toxic thiocyanate.
Hydroxy B12 provides an active and well-absorbed form of B12 for people looking to treat or prevent deficiency and anemia in an easy to consume lozenge. It has the additional benefit of helping the body eliminate toxic cyanide 
Hydroxocobalamin is a storage form of B12 which can be easily converted to the active form of B12 as needed. Hydroxy B12 helps to form healthy red blood cells, and metabolize carbohydrates, fats and proteins.
Guarantees
 AOR™ guarantees that all ingredients have been declared on the label. Contains no wheat, gluten, corn, nuts, peanuts, sesame seeds, sulphites, mustard, soy, dairy, eggs, fish, shellfish or any animal byproduct.