EFX SPORTS KRE-ALKALYN* BUFFERED CREATINE!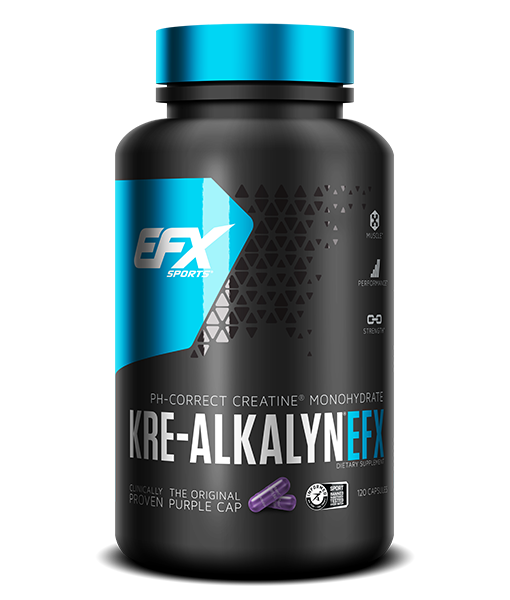 $44.99
AMPED SEAL OF APPROVAL
DETAILS:
THE ORIGIONAL PH BUFFERED CREATINE!
KRE-ALKALYN*
WHY USE KRE ALKALYN* EFX?
Gain Strength
Build Muscle
Enhance Athletic Performance
WHAT IS PATENTED KRE ALKALYN EFX?
Creatine Monohydrate Synthesized to pH 12
Invented By Dr. Jeff Golini, PhD
Informed Sport Certified, Banned-Substance Free
Manufactured By Us – We Control ALL Production
CLINICALLY STUDIED & PROVEN:  
Twenty-four elite athletes from the Bulgarian National Weightlifting Team† were selected to participate in a double-blind clinical study(1) comparing Kre-Alkalyn®to standard creatine monohydrate.
After 60 days, the Kre-Alkalyn® group (using 7.5 g per day) experienced an overall average strength increase of 28.25% above those in the unbuffered creatine monohydrate group!
† Elite athletes using 7.5 g of Kre-Alkalyn®. Individual results may vary. Referenced: (1) Stoychev K., Terziiski N. (2006). "Comparison of Kre-Alkalyn to Creatine…performance, & safety".
SUPPLEMENT FACTS
Serving Size: 2 Capsules
Servings Per Container: 30 (60 capsules), 60 (120 capsules), 120 (240 capsules)
---
AMOUNT PER SERVING
% DAILY VALUE
Kre Alkalyn
(buffered creatine monohydrate)
U.S. Patent #6,399,661
1,500 mg
---
Daily Value (DV) not established.
Other Ingredients: Capsules (gelatin, FD&C Blue #1, FD&C Red #40), Maltodextrin, Magnesium Stearate.