GREANDE CARB KILLA PROTEIN SPREAD!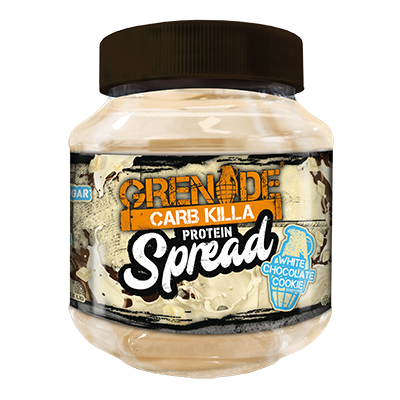 $14.99 $15.00
AMPED SEAL OF APPROVAL
DETAILS: 
HIGH PROTEIN, LOW CARB, SPREADABLE HEAVEN!
PROTEIN TREAT
A range of indulgent chocolate spreads made with whey protein.
KEEP IT LOW
With 20% protein and 87% less sugar than other leading chocolate spread brands, it is a delicious way to consume additional protein without all the additional sugar.
HOW DO YOU EAT YOURS?
As a tasty topping for your breakfast toast or bagel or a delicious sweet filing for a croissant. An ideal ingredient for baking protein treats - use as a topping for banana bread or a gooey filling for protein muffins. It makes a great combo with rice or oat cakes for a mid-morning or afternoon snack or maybe straight from the jar with a spoon for that 'no fuss' sweet protein fix.
SCIENCE STUFF
Carb Killa®

 

Spreads are sweetened with Maltitol (which has fewer calories than sugar) and are suitable for vegetarians. Milk Chocolate and Hazel Nutter flavours are Gluten Free whilst White Chocolate Cookie flavour contains real cookie pieces.
EAT ME
Consume at any time of the day as part of a balanced diet and healthier lifestyle.