OPTIMUM NUTRITION GOLD STANDARD 100% WHEY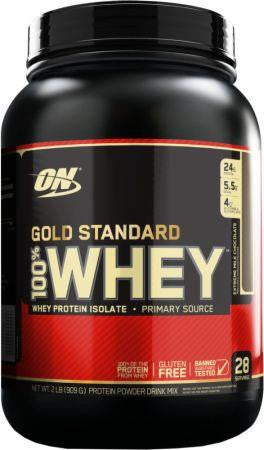 $69.99
AMPED SEAL OF APPROVAL
DETAILS:
THE GOLD STANDARD OF PROTEIN POWDER! 
Instantized Whey Protein Isolates (WPI) are the purest form of whey protein that currently exists. WPIs are costly to use, but rate among the best proteins that money can buy. That's why they're the first ingredient you read on the Gold Standard 100% Whey™ label. By using WPI as the primary ingredient along with premium ultra-filtered whey protein concentrate (WPC), we're able to pack 24 grams of protein into every serving to support your muscle building needs after training. ON's attention to detail also extends to mixability. This superior quality powder has been instantized to mix easily using a shaker cup or just a glass and spoon. There's no doubt that this is the standard by which all other whey proteins are measured.
Whey Protein Isolate (WPI) Main Ingredient
Whey Protein Microfractions from Whey Protein Isolates & Ultra-Filtered Whey Protein Concentrate
Over 4 Grams of Glutamine & Glutamic Acid in Each Serving
More Than 5 Grams of the Naturally Occurring Branched Chain Amino Acids (BCAAs) Leucine, Isoleucine, and Valine in Each Serving
The "Gold Standard" for Protein Quality
DIRECTIONS
Blender: Add one scoop of On 100% Whey Gold Standard to a blender filled with 6-8 fl oz of your favorite beverage. Blend for 20-30 seconds. Add 1-2 ice cubes then blend for an additional 30 seconds. Shake up your shake: By adding a few high-energy ingredients to your shake you can blend up a delicious meal: try adding Fresh or Frozen fruits ( strawberries, bananas, etc.), peanut butter, flaxseed oil, unflavored yogurt, coconut, slivered almonds, or other ingredients. Stack your shake: By adding other supplements including creatine, glutamine, taurine you can make an even more powerful post- workout recovery product. Shaker: (Easier: quick and convenient) Fill a shaker bottle with 6-8 fl oz of your favorite beverage. Add one scoop of On 100% Whey Gold Standard. Cover and shake for 25-30 seconds. Enjoy. Glass and Spoon: (Easiest: fast and simple) Simply add one scoop of ON 100% Whey Gold Standard to a tall glass. Add 6-8 fl oz of your favorite beverage. Mix with a spoon for about 20 seconds or until powder is well disbursed. Store in a cool, dry place.Suggested Use: Consume approximately 1 gram of protein per pound of body weight per day through a combination of high protein foods and protein supplements. For the best results, consume your daily protein allotment over several small meals spread evenly throughout the day.
WARNINGS
Allergen Information: This product contains whey derived from dairy, wheat, and lecithin (to improve mixability) derived from soybeans.Keep out of reach of children. Do not use as a sole sources of nutrition for weight loss or maintenance.