QUEST NUTRITION QUEST BAR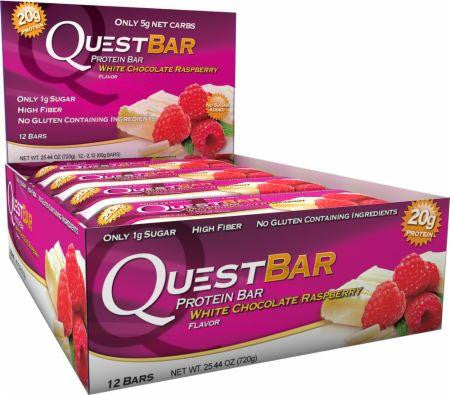 $41.99 $45.48
AMPED SEAL OF APPROVAL
DETAILS
They said that this protein bar couldn't be made, but we finally did it. It's delicious food packed with protein that makes no compromises. Just read our ingredients and you'll see.̴Ì_
DESCRIPTION
America's Favorite Protein Bar leads the charge in Quest's mission to end metabolic disease. Every delicious Quest Bar flavor has 20-21 grams of protein and plenty of fiber without a lot of unnecessary ingredients or extra carbs. All Quest Bars are gluten and soy free, and contain no added sugar. Quest Bars are helping us inspire a global #CheatClean revolution, reframing the conversation around nutrition. This is the bar that promises food can taste as good as it is good for you. With Quest Bars, you can eat toward your goals and love every bite along the way.
INGREDIENTS
Protein Blend (Milk Protein Isolate, Whey Protein Isolate), Soluble Corn Fiber (Prebiotic Fiber), Almonds, Water, Erythritol, Natural Flavors, Unsweetened Chocolate, Cocoa Butter. Contains less than 2% of the following: Cocoa (Processed with Alkali), Coconut Oil, Sea Salt, Sunflower Lecithin, Baking Soda, Xanthan Gum, Steviol Glycosides (Stevia).

BARS

VS

OTHER BARS

Quest Nutrition was created to help you pursue greatness. With one of the best nutritional profiles of any protein bar on the market we've got 20g of protein, 2-7g Active Carbs, tons of fiber, no sugar added and no junk. Most importantly they taste great! There's a reason that people can't stop talking about Quest. It's time for you to taste them for yourself!
Quest Bars
High-quality, bioavailable proteins
Ingredients you know & understand
No added sugar
Junk Free & Gluten Free
VS
Other Bars
Use worthless gelatin to bump up protein counts
Rice syrups and disguised simple carbs
Mysterious and harmful junk ingredients
Candy in disguise
̴Ì_
WARNINGS
Contains: Almonds and Milk Derived Ingredients.